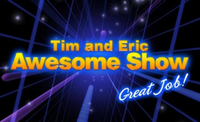 Tim & Eric Awesome Show, Great Job! is the 22nd Williams Street original television series. It's produced by WS with Absolutely and airs on the Adult Swim block with a run-time of 11 minutes. It was created by Tim Heidecker and Eric Wareheim who also write, direct, star, do voice-over work, and act as executive producers on the show. It was spiritually preceded by Tim & Eric's previous show Tom Goes to the Mayor.
Each episode contains a collection of quick surreal sketches featuring song numbers, mock commercials, and mock programming usually in the vein of unintentionally bad public access. A large chunk of each episode's sketches are continuous but presented in a non-linear fashion. These sketches are linked together with a specific theme, and it may make it's way into seemingly unrelated sketches. This theme is usually the episode title, and is usually a mundane object.
The show is shot in live-action, and features a huge amount of greenscreen special effects (that are usually intentionally poorly rendered). Using glitchy, surreal, abstract, and often unpredictable video editing, the show often aims to create common, but extreme discomfort. The cast of the show ranges from well-known celebrity guests to alternative comedians, actual public access stars, senior citizens pulled off the street, recruited bad talent, and craigslist posters.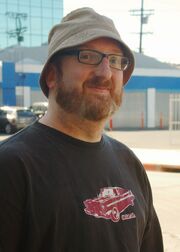 "It's like a koala bear crapped a rainbow in my brain!"
― Captain Murphy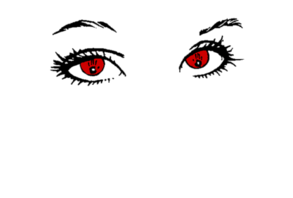 The sixth volume of Aqua Teen Hunger Force is available on DVD June 1st!
Space Ghost has been revived to market products yet again, with new content featuring Vitamin Water spokesperson Steve Nash.
The

Burger King Have it Your Way

contest for 2010 goes into voting mode the 31st .
The

Singles Program

continues with an exclusive release by music artist Madvillain
The

Custom DVD

sweepstakes in the shop is now closed. Your dear admin was a final winner!
A new Aqua Teen Hunger Force T-Shirt is available in the shop.
New content on the [adult swim] site includes 2 new

Everybody Loves Lists

, 2 new featured games from across the web, and links to off-site humor.
The latest original games commissioned by Adult Swim are

Death Row Diner

and

Give Up, Robot

.

Season 5, Episode 4 - "Young, Dumb, and Full of Gums"
Season 1, Episode 4 - "Health"

Season 3, Episode 6 - "Smokin' With Cigarettes"
Airing May 30th, 2010