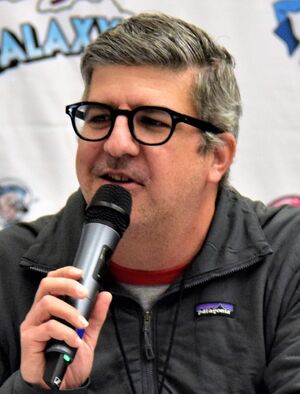 Dana Snyder (Born November 14, 1973) is an American actor, voice actor, and comedian. He is known for voicing Master Shake on Aqua Teen Hunger Force, Granny Cuyler on Squidbillies, and Baby Ball on Ballmastrz: 9009. He also voiced Dr. Whang on Adult Swim's Minoriteam, Dr. Colosso on Nickelodeon's comedy series The Thundermans, and Gazpacho on Cartoon Network's animated series Chowder.
Background
[
]
Dana Snyder was born in Allentown, Pennsylvania on November 14th, 1973 and grew up in Las Vegas. He credits Don Rickles, Rip Taylor, and Phil Silvers as his childhood influences. Snyder graduated from Las Vegas High School in 1992 and he graduated with a BFA from the Conservatory of Theatre Arts at Webster University, Missouri in 1996.
Personal Life
[
]
He married Christine Sweety Snyder (née Ciccone) in August 2005. They have one daughter born in June 2014.
Non-WS career
[
]
Chowder (2007-2010) - Gazpacho (Voice)
The Thundermans (2013-2018) - Dr. Colosso (Voice)
Paradise PD (2018-present) - Dusty Marlow, Stanley Hopson, Thester Carbomb IV and various (Voice)
Dallas & Robo (2018) - Fat Paul (Voice)
The Patrick Star Show (2021) - Grandpa Star (Voice)
The Ghost and Molly McGee (2021) - Scratch (Voice)
Jellystone! (2021) - Snagglepuss and Touche Turtle (Voice)
Involvement with Williams Street
[
]
Aqua Teen Hunger Force (2000-2015) - Master Shake (Voice)
Squidbillies (2005-Present) -

Granny Cuyler

(Voice)
Robot Chicken (2005-Present) - Various (Voice)

Minoriteam

(2006) -

Dr. Wang

(Voice)

Your Pretty Face is Going to Hell

(2013-Present) -

Lucas

(Season 1-2) and

Troy Ersatz

(Season 3-Present)

Ballmastrz: 9009

(2018-Present) -

Baby Ball

(Voice)
External Links
[
]