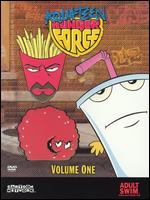 Packaging Design
Edit
The front cover features the Aqua Teens on a background similar to that from the show intro: an urban street with a brick wall behind them.

The back cover has a text summary of the show, and lists the features of the DVD.

The inside folder of the DVD contains more character art, including the Mooninites. On the DVD discs are artwork of the Aqua Teens (disc 1) and Carl (disc 2).

1. Rabbot 2. Escape from Leprechaupolis 3. Bus of the Undead 4. Mayhem of the Mooninites 5. Balloonenstein
6. Space Conflict from Beyond Pluto 7. Ol' Drippy
8. Revenge of the Mooninites 9. MC P Pants 10. Circus 11. Dumber Days 12. Love Mummy 13. Dumber Dolls 14. Interfection 15. Bad Replicant 16. PDA
Special Features
Edit
Episode commentary on Rabbot: The Original Cut, Space Conflict from Beyond Pluto, and Mayhem of the Mooninites.
Rabbot: The Original Cut
Never Before Seen Footage
Easter Eggs
Edit
External Links
Edit